Rens van de Schoot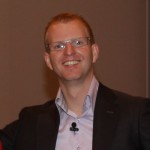 See my website for an overview of my publications and more.
Research Topics
Bayesian evaluation of informative hypotheses
Key publications
Van de Schoot, R., Hoijtink, H., Hallquist, M. N., & Boelen, P.A. (2012).  Bayesian Evaluation of inequality-constrained Hypotheses in SEM Models using Mplus. Structural Equation Modeling, 19, 593-609.
Key grants
Vidi grant (VIDI-452-14-006) from the Dutch Organization for Scientific Research (NWO) awarded for 'Experts, their prior knowledge, and the issue of limited data'.
Veni grant (VENI-451-11-008) from NWO awarded for 'Statistical models to investigate the causes and consequences of post traumatic strass (PTSD)'.